Could there be a worse "Transportation Secretary" on earth, than Pete Buttigieg? I have never seen "transportation" in the United States turn into such a chaotic, disorganized, bumbling mess, then when this clown took over. Since Mayor Pete scampered into the role, all hell has broken loose. From ships stacking up in the LA harbor, to every airport in the US shutting down at once and now, trains blowing up and derailing all over the US. And the issue in Ohio could be one of the worst environmental disasters this country has ever seen. And what's Pete doing?
Oh, who knows, chest-feeding is kid, maybe?
This is a photo of the Ohio train explosion:
Now, animals are dying within a 100-mile radius from the chemicals:
"We basically nuked a town with chemicals so we could get a railroad open"

A HazMat expert said this on local Ohio news & it may explain why the media is no longer covering this ecological disaster

Shortcuts were taken & public health is now jeopardized
pic.twitter.com/8X9LXGqeZo

— DC_Draino (@DC_Draino) February 13, 2023
Great vid explaining the toxic derailment in Ohio. pic.twitter.com/KNkBrzQ1Eq

— Justin Hart (@justin_hart) February 13, 2023
Chernobyl 2.0 happened in Ohio and Legacy Media is silent. Shame on them. pic.twitter.com/casi9BKYgz

— Liz Churchill (@liz_churchill8) February 13, 2023
And if that wasn't bad enough, two more trains just derailed. What the heck is happening in this country right now? It's literally falling apart under the sleepy, senile eye of Bumbling Joe Biden.
DC Enquirer reported that on Monday, officials in Enoree, North Carolina are responding to a train derailment, according to Fox Carolina.
Additionally, a train derailed in Splendora, Texas near Houston leading to the death of a truck driver and the derailment of several cars, according to Houston Public Media.
The crash took place at approximately 7:30 a.m. when a Union Pacific train collided with an 18-wheeler.
According to a Union Pacific official, over 100 gallons of diesel fuel were released by the truck following the crash. Union Pacific dispatched a hazard team to assess the damage
"From what we're being told and shown, there's no major chemicals to be concerned about," Teller said. "It's more so household chemicals on board for retail purposes. It's not a large quantity from what we're being told."
Both of these train derailments come as the East Palestine incident has led to potentially hazardous chemicals seeping into the Ohio River, as previously reported by the DC Enquirer.
According to the Cincinnati Enquirer, the Greater Cincinnati Water Works is collecting water samples from the Ohio River after it was assessed that "low levels of butyl acrylate were detected in samples of the Ohio River."
I will leave you with the perfect meme to describe inept Mayor Pete and the entire bumbling Biden admin: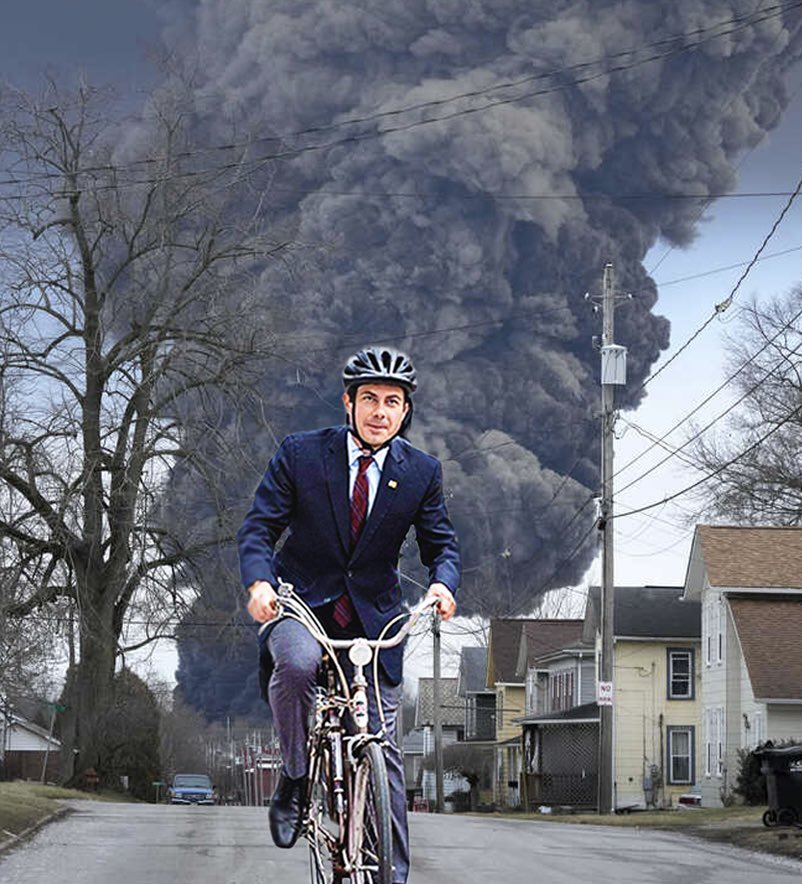 The opinions expressed by contributors and/or content partners are their own and do not necessarily reflect the views of WayneDupree.com
---
---
I'm glad you're here, WayneDupree.com comments! Please maintain polite and on-topic conversations. You could see comments from our Community Managers, who will be identified by a "WD Staff" or "Staff" label, in order to promote fruitful and civil discussions. We stop accepting comments on articles three days after they are posted in order to provide the optimal user experience. The conversations forums on WayneDupree.com welcome comments for an unlimited period of time. For further information, please refer to our community policies.
SIGN UP HERE and join us!
---
Follow Wayne on Rumble!