Many people are wondering why Florida Governor Ron DeSantis won't come out and defend the January 6th defendants, especially after he was so incredibly harsh on them right after the incident occurred, and even more so, because most of them are his constituents. An interesting and little-known fact is that most January 6th defendants are from the great state of Florida. So, it would only make sense that Ron would be fighting for them right?
Yes, you'd think so, but that's not even close to what's happening.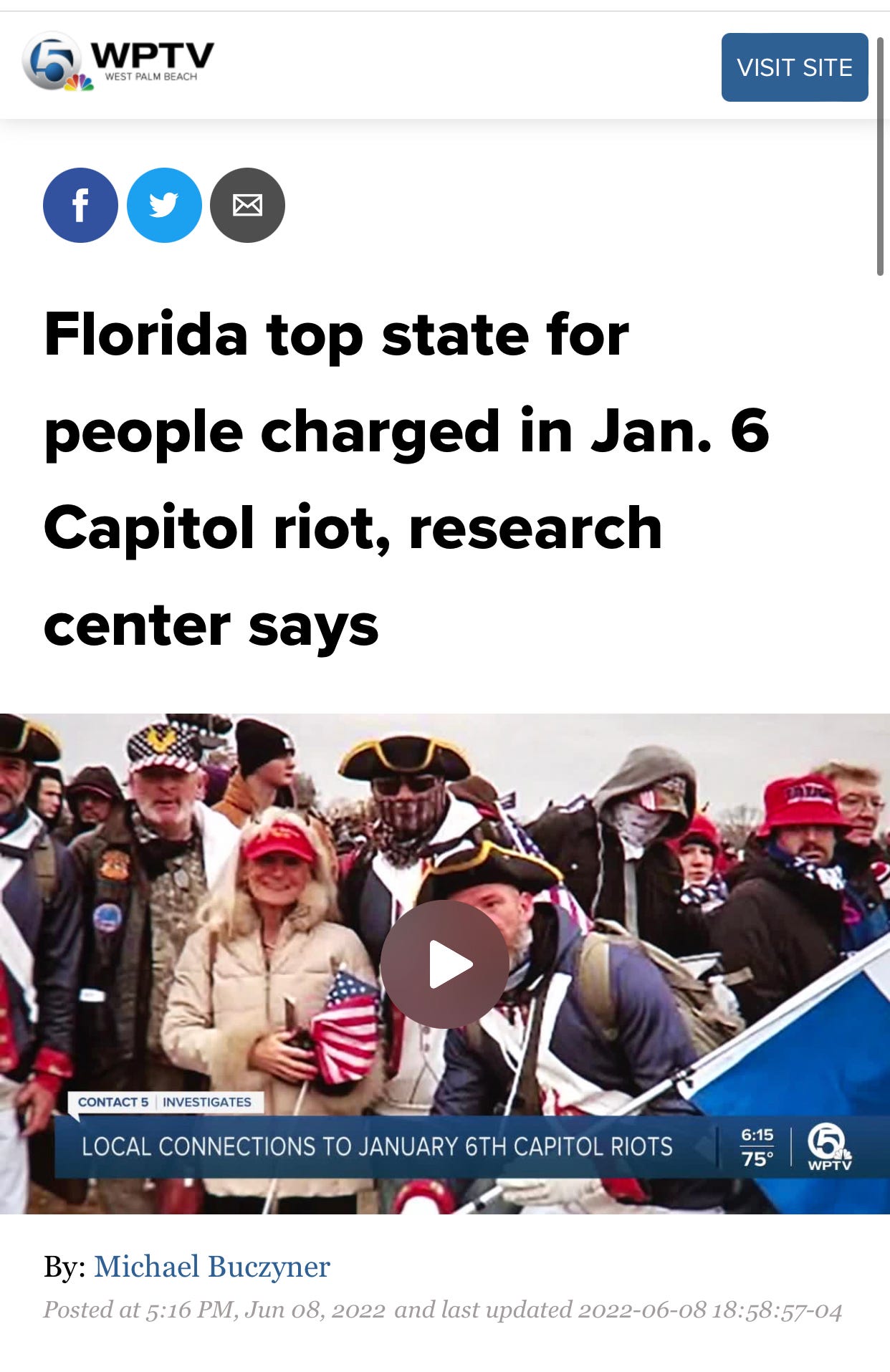 And as usual, one of our favorite investigative reporters is all over this issue – none other than the beautiful and talented Ms. Laura Loomer, who as you know, fights passionately for the underdogs, and in this case, she's going all out for the January 6th politcal prisoners.
Here's part of what Laura said in her most recent Substack piece:
As January 2023 has concluded, it has officially been two years since the January 6th (J6) 2021 Stop the Steal protest in Washington DC. Over the last two years, hundreds of J6 political prisoners have continued to rot in prison, while their due process and right to a trial that consists of a jury of their peers has been denied. Many of the J6 defendants remain imprisoned under pretrial detention despite committing zero violent acts at the United States Capitol.

While there are J6 defendants and prisoners from all over the country, it is worth noting that Florida has the highest number of J6 defendants.

Among the chorus of DeSantis 2024 supporters, and the alleged paid social media influencers, many of which built their entire social media following by falsely presenting themselves as supporters of President Trump (while making boatloads of money off his name and selling MAGA merchandise) during his term in the White House, a new anti-Trump narrative is spreading, based off the despicable lie that Trump is solely to blame for the J6 political prisoners remaining behind bars.

"Trump could have pardoned them!" the DeSimps scream, despite the fact that the vast majority of those behind bars, and many who are still being targeted by the DOJ in their growing "criminal investigation" into what the DOJ refers to as the "J6 CAPITOL INSURRECTION", were charged AFTER President Trump formally left office following the transition of power to the Biden administration.

Issuing a blanket, presidential pardon for non-violent actions on J6 would be a tacit admission that the J6 patriots did something wrong … which they didn't!
That's such a great point that Laura makes about this "theory" from the DeSantis crowd that President Trump could have waved his wand and freed every J6 defendant. It's far more complicated than that, unfortunately.
But as Laura points out, the real issue is why DeSantis shows such disdain for the J6 defendants. He and his staff were so hard on them right out of the gate, and they never corrected their liberal talking points, nor have they stood up and fought for them.
Why?
Below are some examples of the Team DeSantis to response after January 6th:
Ron was very busy pushing mainstream media/liberal/establishment talking points on January 6th. Which isn't surprising, DeSantis has always been an "establishment guy." He just pulled a Lindsey Graham move and "reinvented" himself when Trump won the primary. But Ron is smarter than Lindsey, he backs up his "reinvention" with some actions… the key word is "some." Ron will fight Ben and Jerry's ice cream on behalf of Israel, but he won't fight for January 6th Defendants, which is odd. That may be a bridge too far for his establishment tastes?
Here's a statement from Ron after the "DC thing," as he calls it, at the Capitol:
"I actually am glad to see some of these people being arrested from the DC thing, because I think the prosecutions will really make a difference. I think it was a really unfortunate thing," – Ron DeSantis on J6 arrests
And this is from Ron's official statement that he shared on Twitter:

And if that wasn't bad enough, DeSantis' press secretary Jeremy Redfern, who is still employed, by the way, tweeted out that he wanted Trump impeached for January 6th, and also that Ashli Babbitt deserved to be shot and killed. He has since deleted those tweets.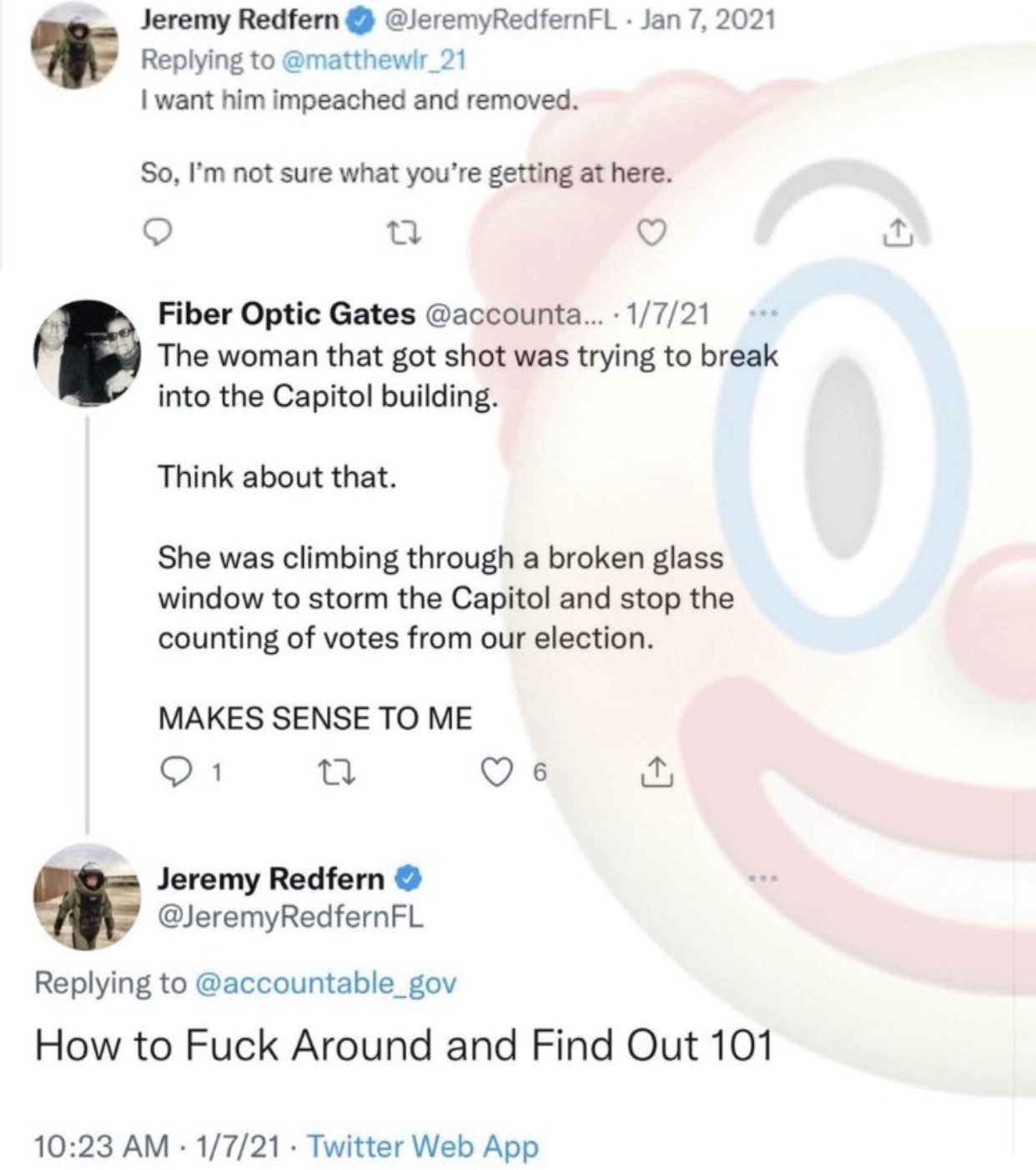 When @JeremyRedfernFL, DeSantis's press Secretary got caught & exposed for Tweeting he wanted Trump to be impeached & that Ashli Babbitt deserved to get shot, he DELETED ALL OF HIS TWEETS FROM 2009 to Jan 2022!

He DELETED TWEETS & DeSantis has kept him employed on taxpayer dime. https://t.co/eKc9OPu7p3 pic.twitter.com/ZhDzSUENaZ

— Laura Loomer (@LauraLoomer) January 24, 2023
Redfern never apologized for that statement. DeSantis never apologized to Ashli's family, or Trump supporters on his behalf. Redfern simply deleted the tweet (a cowardly go-to move he does all the time), and went on his merry way.
That's so unacceptable, I don't even have words for it..
So, what's going on with Ron? Why do he and his team appear to have such disdain for the January 6th defendants and unarmed Ashli Babbitt who was slaughtered in cold bold?
Well, Laura has a theory… She thinks it has something to do with Ron's neocon ways and his past at GITMO – yes, I said GITMO. Her theory is interesting and I think it's worth reading. You can do that here.
And also, please consider subscribing to Laura's Substack, and help support her work. It's invaluable what she does, and she can't do it without our help.
I also have an additional theory on why Ron's clammed up about January 6th – it's very simple: Ron and his establishment buddies understand that they have to push many issues that they're uncomfortable with if they want this plan to destroy Trump and MAGA to work. But pushing for J6 defendants and calling out the "fed" plot is just way too much for them, and gets into territories that they really are not comfortable with.
Whatever the case may be, Ron DeSantis and his team have a lot of apologizing and "correcting the record" when it comes to January 6th.
Will he do it? 
Time will tell…
The opinions expressed by contributors and/or content partners are their own and do not necessarily reflect the views of WayneDupree.com
---
---
I'm glad you're here, WayneDupree.com comments! Please maintain polite and on-topic conversations. You could see comments from our Community Managers, who will be identified by a "WD Staff" or "Staff" label, in order to promote fruitful and civil discussions. We stop accepting comments on articles three days after they are posted in order to provide the optimal user experience. The conversations forums on WayneDupree.com welcome comments for an unlimited period of time. For further information, please refer to our community policies.
SIGN UP HERE and join us!
---
Follow Wayne on Rumble!