I will be honest, I can't watch the Tyre Nichols footage, the same way I couldn't watch the George Floyd footage, or any footage at all that involves someone suffering and dying. I don't care who they are, or what they did to end up in that situation, I also don't care what color, religion, or "gender" they are – I just can't watch that stuff. But I have read about what happened, and it sounds so horrific and awful, and I am deeply disturbed by it.
With all of that said, there is never justification for riots, looting, or causing other innocent people distress or hardship. There are so many horrific things that happen every day in this country, and if we all behaved like crazy loons, this country would be turned to ash…
Last night in Memphis, for the most part people were peaceful and that's how it should be. Let's hope it stays that way.
But they are blocking roads, which is problematic for innocent people trying to get to work and first responders, as well.
Protesters have shut down the Memphis-Arkansas Bridge in both directions as hundreds of cars are now backed up as protesters refuse to clear out the highway @DailyCaller pic.twitter.com/xEGQfvzk7t

— Jorge Ventura Media (@VenturaReport) January 28, 2023
But situations started to get heated in other areas.
NYPD makes a targeted arrest against one of the lead marchers with a microphone at the Justice for Tyre Nichols protest, NYC pic.twitter.com/lYqPcMHb9w

— Timcast News (@TimcastNews) January 28, 2023
Online influencer Malcom Flex had this to say:
The death of Tyre Nichols and the release of the #TyreNicholsVideo have me a bit confused as to what the protests are going to accomplish here.

I get the pain of my community at the loss of a brother but protests which will be infiltrated and co-opted seems counterproductive. pic.twitter.com/xXz4qSo8yP

— Malcolm Fle✘ – 🇺🇸Amoral Mercenary🇺🇸 (@Malcolm_fleX48) January 28, 2023
PJ Media reported that the nation is bracing for widespread "protests," which we know will likely mean riots. Memphis area schools have canceled after-school activities. New York City's jackpudding mayor, Eric Adams, is expecting "peaceful" protests.
Lefty anarchist groups BLM and Antifa are, however, planning their onslaughts.
#Antifa, #BLM & leftist groups are trying to incite a George Floyd-style uprising over the death of #TyreNichols, a black Memphis man who died days after an arrest. 5 officers, all black, have been fired & charged with 2nd-degree murder. The bodycam footage will be released soon. pic.twitter.com/wwXyvoLzUA

— Andy Ngô 🏳️‍🌈 (@MrAndyNgo) January 26, 2023
Gun stores were frequent looting targets during the George Floyd riots and are warned to be vigilant.
The Memphis Police Department has decided, incredulously, to release the video at night as the weekend begins, all but ensuring carnage will take place.
Some believe the release of the Tyre Nichols video — in part — is a reason Georgia Governor Brian Kemp declared a state of emergency, as reported by PJ Media's own Chris Queen.
The fact that we're not seeing cities burn to the ground is really making Antifa mad.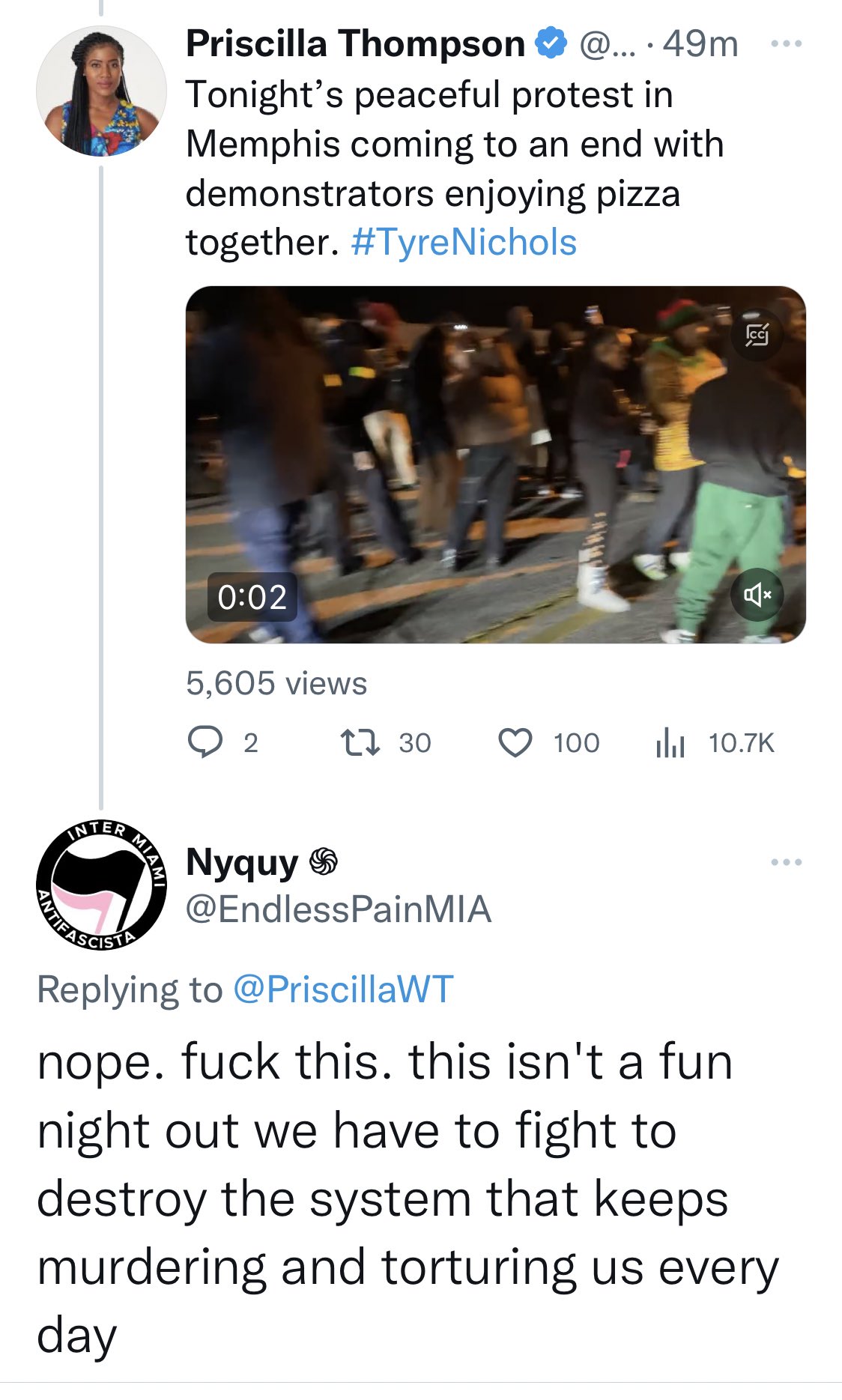 One black truck driver, just trying to do his job, came face-to-face with a crowd of protesters, who wouldn't budge, no matter how much he begged and pleaded.
Watch:
BREAKING: A black truck driver pleads with protesters to clear the Mississippi River bridge in Memphis so he can get to work

They refusepic.twitter.com/IknX4Ujuit

— Jack Posobiec 🇺🇸 (@JackPosobiec) January 28, 2023
All those white people in the crowd, claiming to want to stand up and "help" blacks, but won't move to allow a hardworking black man get to work.
Idiots.
Hopefully, we won't see cities burn to the ground again, but with Antifa communists pushing hard for anarchy, I am afraid that we will see a repeat of what happened when George Floyd died.
The opinions expressed by contributors and/or content partners are their own and do not necessarily reflect the views of WayneDupree.com
---
---
I'm glad you're here, WayneDupree.com comments! Please maintain polite and on-topic conversations. You could see comments from our Community Managers, who will be identified by a "WD Staff" or "Staff" label, in order to promote fruitful and civil discussions. We stop accepting comments on articles three days after they are posted in order to provide the optimal user experience. The conversations forums on WayneDupree.com welcome comments for an unlimited period of time. For further information, please refer to our community policies.
SIGN UP HERE and join us!
---
Follow Wayne on Rumble!