Jamie Lee Curtis has come under some seriously creepy scrutiny after she posted a photo of her home on Instagram and folks noticed a very disturbing photo hanging on her wall of a naked child in a box. Jamie deleted the photo, but claims it's not a big deal. It's just a picture some photographer took of her naked kid in a box in the backyard. Huh? Why is that even a photo for the public? The child in that picture is way too OLD to be "cute" in that pose, if you catch my drift. These elites are so screwed up and disturbed if they think something like THAT is normal to hang on your wall and look at everyday.
Here's the photo Jamie Lee Curtis posted, and then deleted after everyone started noticing:
Why does Jamie Lee Curtis have a painting of a naked child stuffed in a box hanging on her wall? She deleted this whole thing shortly after posting it. pic.twitter.com/1IKEQinOie

— Gina Bontempo (@FlorioGina) January 18, 2023
Here's a closeup of the disturbing photo: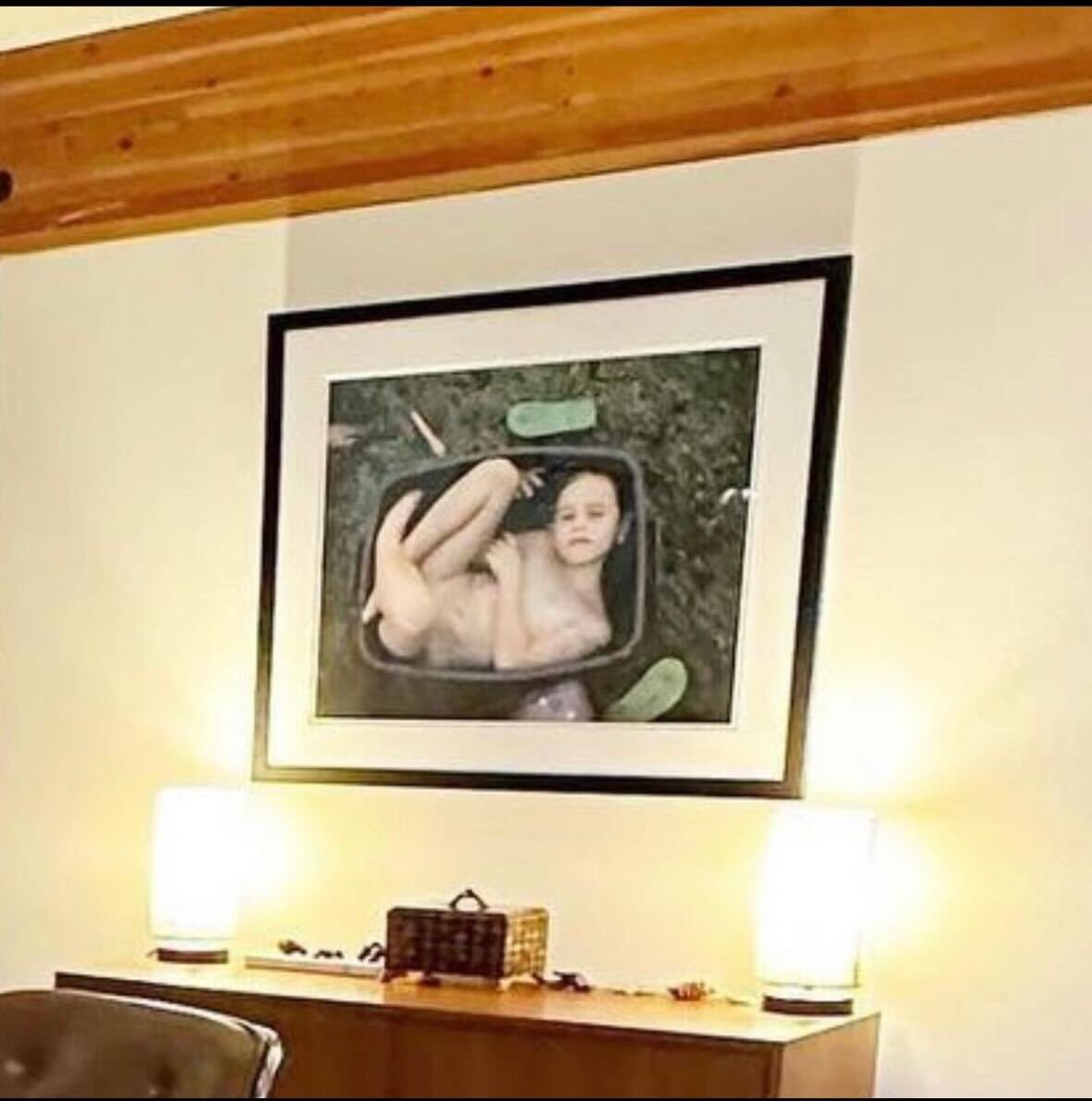 Left-wing Parade Magazine reported that Jamie Lee Curtis is clearing up the controversy around a recent Instagram post that seemed to rub some of her followers the wrong way.
Last week, the 64-year-old actress shared a photo of the office space in her house to show off her "beautiful Pollack chairs," but all the attention was, instead, focused on the framed photograph on the wall, which appeared to be of a naked young child in some sort of bin or tub.
As reported by the New York Post, a slew of users online immediately slammed the photo as "disturbing," with some even claiming it looked like the child was being sexually exploited, prompting Curtis to provide an explanation.
"Last week I posted a picture of some chairs that included a photograph on the wall by an artist that was gifted to me 20 years ago," she began her message shared to Instagram and Twitter on Thursday, Jan. 19. "I understand that it has disturbed some people."
"I am a truth teller so here's the truth," she continued. "It's a picture of a child, taken by her mother, of her playing in the backyard in a tub of water. Nothing more, nothing less."
Although she seemed to argue that there was nothing exploitative about the photograph, Curtis explained that she deleted it from her page anyway.
"I took down the post because I didn't want to keep something up that upset anyone," she concluded.
Despite the controversy, the Halloween star's fans were quick to come to her defense, with many assuring her in the comment section that she didn't do anything wrong by posting the photo in the first place.
"I saw the post and only noticed the chairs," one fan insisted. "Please don't give in to these people. If it brings you joy share it."
Others argued that she didn't need to take the photo down, with one person saying, "This wasn't necessary, Jamie. You've done nothing wrong. Some people really just need to get a life."
Watch:
Yes, people who notice a naked older child in a box on the wall, need to "shut up" and "get a life."
This is the current Democrat Party, folks.
Aren't they disturbing and disgusting?
Why can't they leave kids alone? This is the question we all need to be asking them every single day.