When the Dems are done with you, they're really done. There's no saving yourself. You either have to allow the nightmare to unfold and swallow you whole, or you just surrender and say "UNCLE" and get some relief. All Joe Biden has to say to make all of this stop, is that he won't run in 2024. But he's a stubborn old bird, and half his brain has turned into gruel, so he's refusing to give in… for now.
That could change as this gets worse…and it will. The Dems don't want this bumbling buffoon hanging around any longer. He served his purpose, now it's time for him to go away.
And this morning Joe will be waking up to a fresh new hell involving his classified documents scandal, and we hope it ruins his entire day, and beyond… But it probably won't, he's probably doesn't even really understand what's going on.
But the American people do, and they're not happy….
Red State reports that while partisan talking heads bat around their opinions on Joe Biden's classified documents scandal, what do the American people think? A new poll from Quinnipiac, which I believe is the first major survey to cover the subject, offers some insight into that question.
To hear the press and the raving women on The View tell it, classified material being found in Joe Biden's garage (among other places) is no big deal. Sure, it's a crime that he took and possessed it, but he handled things the "right way," which is apparently fessing up six years after the fact, at the most politically opportune moment.
Unfortunately for Biden and his defenders, that's a minority view. In fact, nearly three-quarters of respondents to Quinnipiac's survey say the discovery of the documents is very serious or somewhat serious.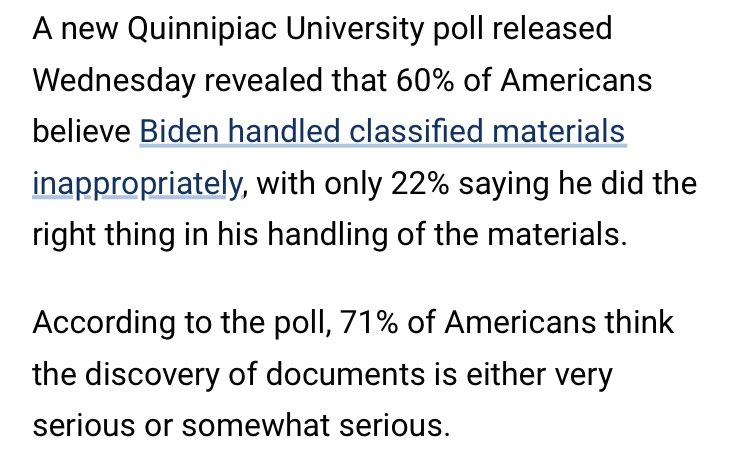 The White House is currently learning the hard way that trying to change the subject and obfuscating from basic questions is not how to make a scandal go away. Rather, it tends to exacerbate the situation, especially when even normally friendly mainstream press reporters are fed up with the lies.
When Karine Jean-Pierre, being perhaps the worst press secretary since the invention of the position, is putting on performances like this, is it any wonder she and her comms team are losing the PR battle?
Well, this is also what happens when you try and frame a former President for sometimes he didn't do. Karma is a real savage, that's for sure.
And keep in mind, this pollster, Quinnipiac is a very far-left leaning poll, so those number are likely even higher.
Joe isn't going to weasel out of this one, but that's only because the left wants him GONE.