I saw this tweet about Jill and Joe's messy house and it really resonated with me because I too am a neat freak. Maybe not OCD, or anything, but I grew up with my mother drilling it into my head that everything has it's place and that organization in the home was as important as organization in work. So, I am always very keen on keeping a tidy house, but I also know that it's normal to have some clutter and that "lived in" cozy feel is perfectly okay, so I am not the type to judge others.
But of course, I will judge Jill and Joe Biden…that should go without saying, right? So, when I saw this funny meme of Jill and Joe Biden and then this subsequent tweet about the clutter in their house, I turned my "judgment" dial all the way up to "10" and let it rip.
Here's the funny meme that's going around right now. It's Jill Biden cooking at her gas stove. This of course, is because of the Biden admins new push to ban gas stoves in America. This is just more of the Green Communist Cult" that the left is shoving down everybody's throat.
The photo is real, but it's pretty funny, with the addition of "sniffy Joe."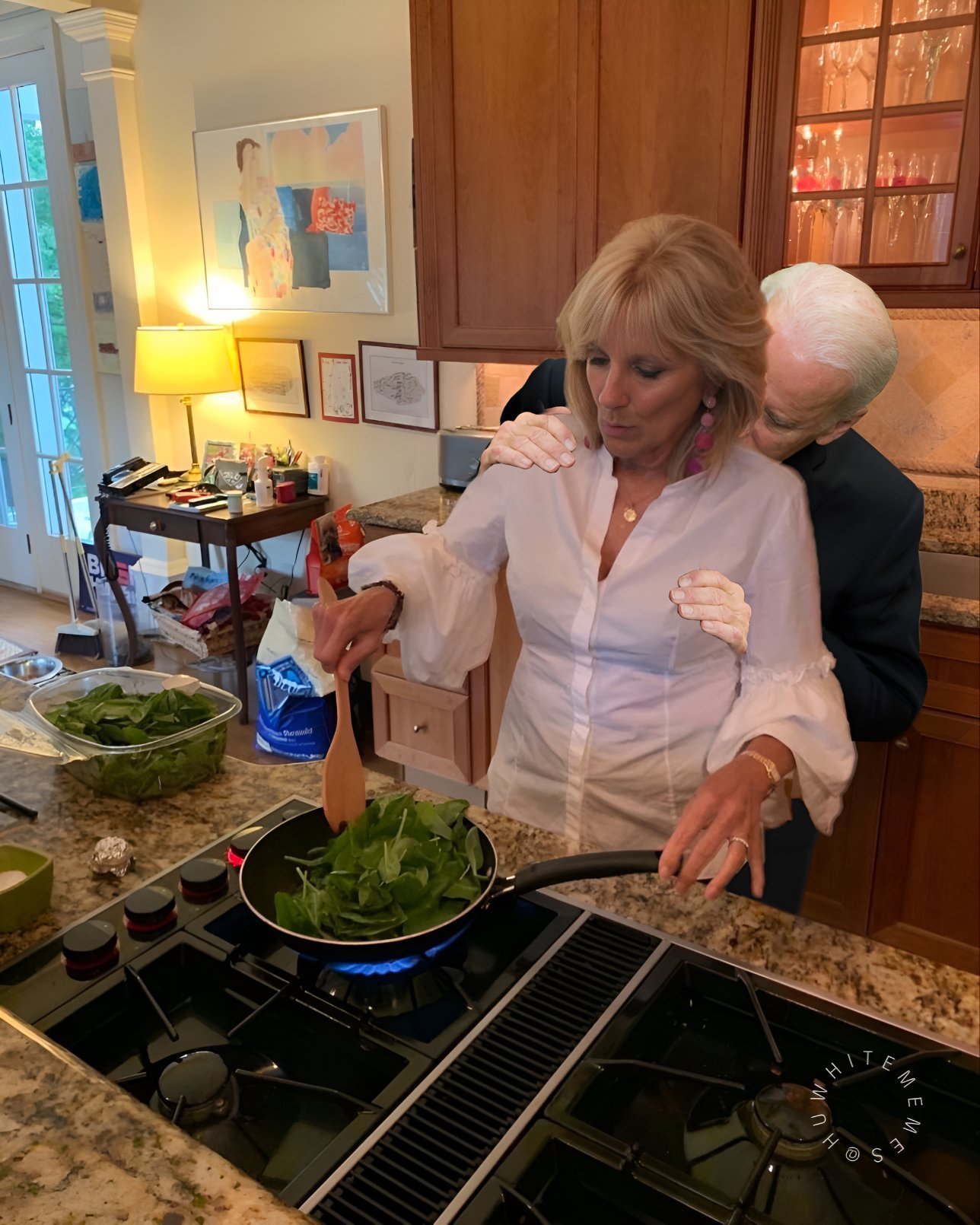 But this was the tweet that caught my eye. Man, look at that mess in the corner. Yikes. My guess is that Jill's always too busy taking care of her patient Joe to keep a clean and organized house. It's like mothers who have these young kids, and they're busy all day running after them…
I know I'm an OCD neat-freak/anti-clutter Nazi, but the Biden house is frightful. Clutter galore, pill bottles on display, baskets of junk tipping over, crooked paintings, shit piled up, dirty broom, dog hair in the vacuum, Biden campaign poster on the floor, ancient phone… pic.twitter.com/sjf7HqP76P

— Amy Moreno (@VivaLaAmes11) January 11, 2023
Geez, what a mess, right? I mean, at least dump out the PILES of dog hair and put the vacuum container and dirty broom and dustpan away. It look like they were trying to clean up before Jill's "spinach photoshoot."
This is the photo without Joe sniffing: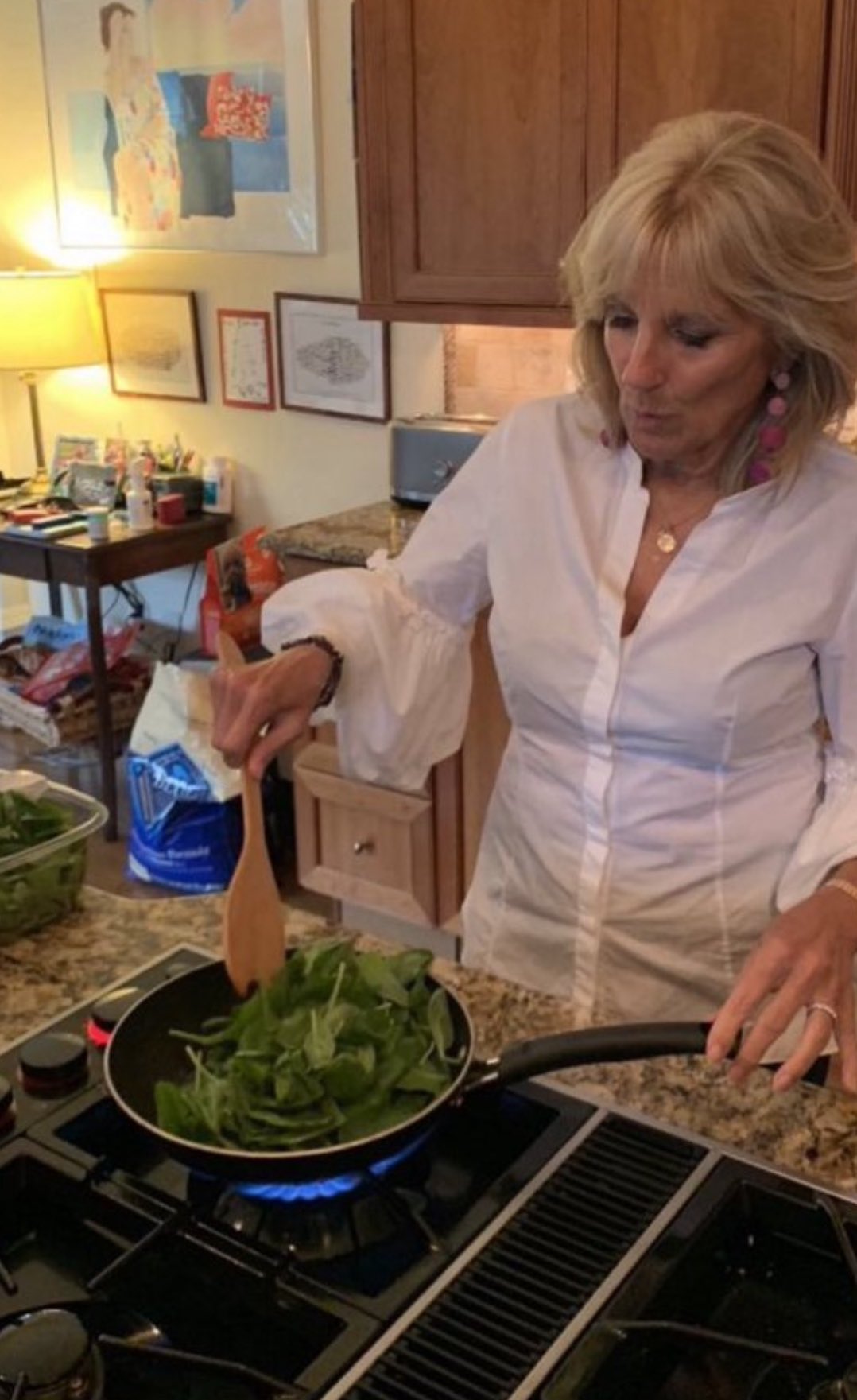 Why on earth is that campaign poster on the floor and how long as it been there? Were Jill and Joe too embarrassed to put it outside? They didn't want anybody to know they were "Biden supporters"? I could sympathize with them if that was the case.
I saw one person say that this was the first house where they saw a "Biden 2020" campaign poster. HA HA HA! That made me laugh, because it's actually pretty accurate. The guy who supposedly won "81 million LEGAL" votes, has pretty much no visible support whatsoever.
But the bigger question is this – could this disorganization and cluttered mess explain why so many classified documents are strewed all over the dang place? At this point, I don't even think Joe knows where he's stashed everything, and there could likely be classified docs in that overflowing basket. Who the heck even knows, right?
Clearly the Bidens are not organized and "tidy" people – just another reason why their professional and family life is so off the rails.
The opinions expressed by contributors and/or content partners are their own and do not necessarily reflect the views of WayneDupree.com
---
---
I'm glad you're here, WayneDupree.com comments! Please maintain polite and on-topic conversations. You could see comments from our Community Managers, who will be identified by a "WD Staff" or "Staff" label, in order to promote fruitful and civil discussions. We stop accepting comments on articles three days after they are posted in order to provide the optimal user experience. The conversations forums on WayneDupree.com welcome comments for an unlimited period of time. For further information, please refer to our community policies.
SIGN UP HERE and join us!
---
Follow Wayne on Rumble!