It never fails…whatever the Dems are accusing Trump of, they are actually guilty of themselves. This is always the way, and this latest "classified documents" scandal with Joe Biden is no different. In a bizarre, yet typical twist of fate, it turns out that Joe Biden is actually the guy who was "stealing" classified documents from the White House and storing them at "think tank" offices funded by Chinese communists. How will the left spin this one? Oh, don't worry, they'll find a way…They also do, right?
Among the items from Joe Biden's time as vice president discovered in a private office last fall are 10 classified documents including US intelligence memos and briefing materials that covered topics including Ukraine, Iran and the United Kingdom, according to a source familiar with the matter.

Attorney General Merrick Garland has received a preliminary report on the documents inquiry, a law enforcement source said, and now faces the critical decision on how to proceed, including whether to open a full-blown criminal investigation.

John Lausch Jr., the US attorney in Chicago, has briefed Garland multiple times. No additional briefings are scheduled but would be conducted if necessary, a source said.

The classified documents were dated between 2013 and 2016, according to the source familiar. They were found in three or four boxes also containing unclassified papers that fall under the Presidential Records Act.

The vast majority of the items in the office contained personal Biden family documents, including materials about Beau Biden's funeral arrangements and condolence letters, the source told CNN. It is not clear if the boxes with classified documents contained personal materials.

Attorney General Merrick Garland has assigned the US attorney in Chicago, a holdover from the Trump administration, to investigate the matter, CNN previously reported. Garland made this move after receiving a referral from the National Archives and Records Administration.

The documents were discovered on November 2, just six days before the midterm elections, but the matter only became public Monday due to news reports.
Of course, the Deep State and media HID this information before the midterms…typical, right? Anything to protect the regime. They don't care about Joe, they only care about gaining power.
Well, former War Room host Raheem Kassam is putting the pieces of this puzzle together and the picture it reveals isn't all that surprising, but it's definitely intriguing and could finally lead to some serious trouble for Joe…maybe, we'll see.
But the bottom line is that all roads always lead back to Hunter and Ukraine.
Here's what Raheem Kassam noticed:
"Classified documents actually pertaining to national security, from around the time Joe Biden is known to have been blackmailing Ukraine over the public prosecutor investigating his son's firm for corruption. FASCINATING."
Classified documents actually pertaining to national security, from around the time Joe Biden is known to have been blackmailing Ukraine over the public prosecutor investigating his son's firm for corruption.

FASCINATING. pic.twitter.com/kPggiEZGIr

— Raheem J. Kassam (@RaheemKassam) January 10, 2023
Here's a closeup of those screenshots.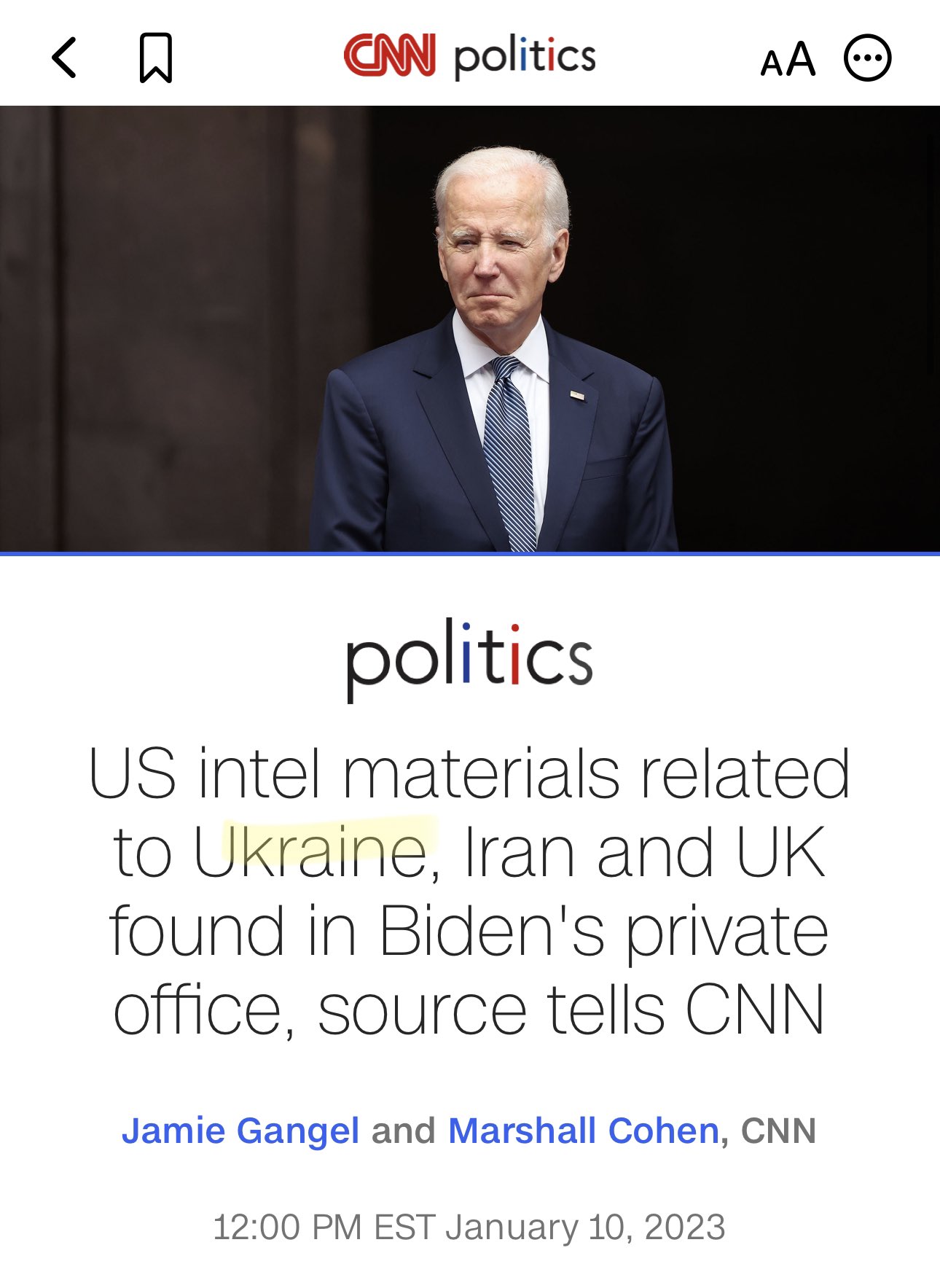 So, let's recap where are we with this whole Joe Biden classified docs scandal: We know he bragged about getting the Ukrainian prosecutor fired. This was the guy who was investigating ties between Barisma and Hunter Biden. Afterwards, VP Biden stole classified docs from the White House that pertained to Ukraine…Wow.
Okay, well, most logical people would consider this to be Obstruction of Justice, right?
Ya gotta wonder if this is the left making their big move to get rid of Joe. We said it was coming after the midterms…is it here?
The opinions expressed by contributors and/or content partners are their own and do not necessarily reflect the views of WayneDupree.com
---
---
I'm glad you're here, WayneDupree.com comments! Please maintain polite and on-topic conversations. You could see comments from our Community Managers, who will be identified by a "WD Staff" or "Staff" label, in order to promote fruitful and civil discussions. We stop accepting comments on articles three days after they are posted in order to provide the optimal user experience. The conversations forums on WayneDupree.com welcome comments for an unlimited period of time. For further information, please refer to our community policies.
SIGN UP HERE and join us!
---
Follow Wayne on Rumble!