This is so heartbreaking. Please, send this family and this mother your prayers. She's in the ICU right now, and her husband is begging for support. They have a 15 month old child who needs her mother. What's so scary, is that we're seeing and hearing about so many of these stories. I realize heart attacks are a major "killer" in the US, so that's nothing "shocking" sadly. But what isn't normal, are all these young people who are "dying suddenly" and collapsing suddenly from heart attacks, strokes, and blood clots. That should be a "rarity" but right now it's happening all over the country and the world, and people want to know what the hell is going on.
And when we ask questions, this is the kind of answers we get:
The second line is the real kicker…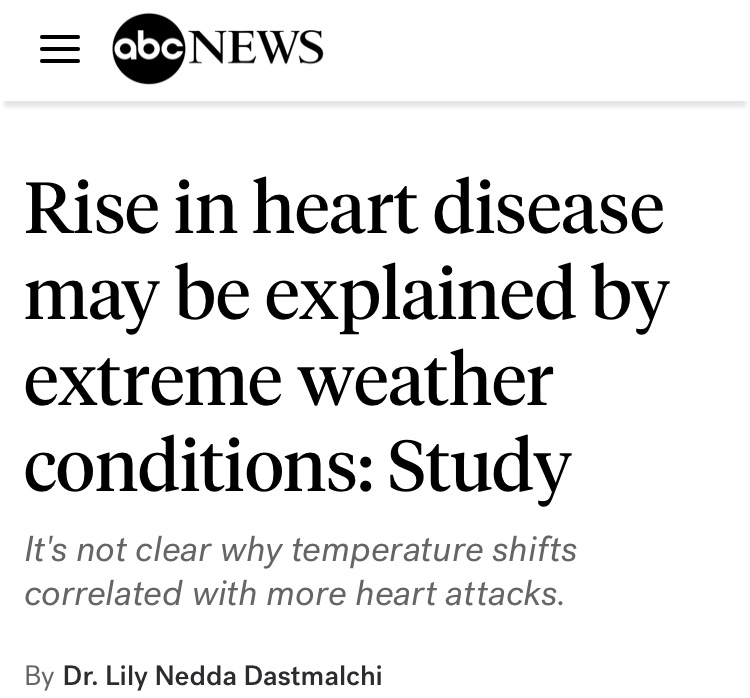 Yes, the "weather" is suddenly causing everyone all over the world to have heart attacks. Have you ever seen anything so incredibly shameless? The left will do anything and everything to cover for the vaccine, and in the process, they've even found a way to promote and fear monger their favorite cult: Climate Change.
These are truly disgusting and putrid people.
"sCiEnCe."
And now, back to the real world and this husband's desperate plea for prayer for his wife…
She was perfectly fine one minute and then the next, she had no heart beat. Now, I don't know this woman's medical situation, but the prayer request is real, so, that's what matters most right now.
Here's what he said in his tweet:
"Please please please pray for my wife Alexis. Alexis suffered cardiac arrest last night. Her heart stopped beating for 3 minutes before being resuscitated. She is currently in ICU. My 15 month old daughter,India, and I need her more than she ever knows.I love you so much Alexis"
I feel so bad for this man. Obviously, I don't know why his young, seemingly healthy wife had a "sudden heart attack" but at this point, with all these "sudden" issues, we need to seriously investigate what's happening here at home and around the world.
That's not saying what this poor woman is dealing with is vax related. But enough has happened all over the place, that I believe we need to look into the overall possibility with all these recent "sudden emergencies."
Right now, this entire situation is starting to feel a lot like the 2020 elections. So much confusion and red tape, that no matter what's going on, they can bury what actually is happening, and good luck proving your point. Chaos by design. And if you don't obey, they'll call you a "anti-vaccine" and mock you for not believing in their precious version of "sCieNcE."
No more. We need answers.
The opinions expressed by contributors and/or content partners are their own and do not necessarily reflect the views of WayneDupree.com
---
---
I'm glad you're here, WayneDupree.com comments! Please maintain polite and on-topic conversations. You could see comments from our Community Managers, who will be identified by a "WD Staff" or "Staff" label, in order to promote fruitful and civil discussions. We stop accepting comments on articles three days after they are posted in order to provide the optimal user experience. The conversations forums on WayneDupree.com welcome comments for an unlimited period of time. For further information, please refer to our community policies.
SIGN UP HERE and join us!
---
Follow Wayne on Rumble!