A chilling picture is starting to emerge of this suspect in the Idaho murders, and it's becoming clear that this guy was almost "hunting" these people like prey – and according to a new report from TMZ, he'd been at it for quite sometime. Apparently, Bryan Kohberger was pulled over a mile from the murder house one month before the killings took place. I am sure he wasn't just out and about on a Sunday drive at nearly midnight.
TMZ said Bryan Kohberger, the man arrested for the murder of 4 University of Idaho students, was pulled over by cops 1.5 miles away from the murder house a couple months before the killings.
The Latah County Sheriff confirms to TMZ … Kohberger was stopped by police in late August, less than 2 miles from the home where the murders happened, and ticketed for not wearing a seat belt.
And, get this … Kohberger was driving a white Hyundai Elantra when he was pulled over near the University of Idaho campus, just down the road from where the murders took place only a few months later.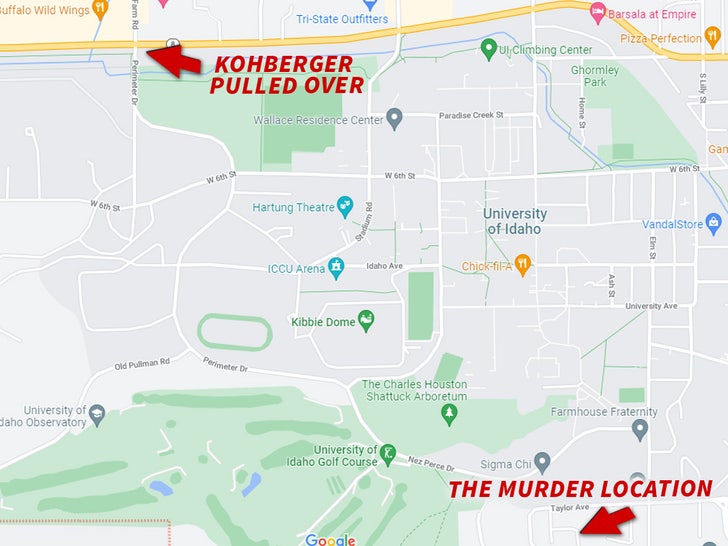 According to the traffic citation, Kohberger was pulled over August 21 at 11:40 PM and he was driving a 2015 white Hyundai Elantra with Pennsylvania license plates.
Remember … the quadruple murder happened the night of November 13, and during the investigation police eventually asked the public for help finding a white Hyundai Elantra.
Kohberger was arrested December 30 at his parent's home in Pennsylvania … he drove there from Washington State with his father before the holidays. He's since been charged with first-degree murder and is on his way back to Idaho.
This guy has really poor driving skills and sure gets pulled over a lot. About a month after the murders, he and his father were driving to PA, and got pulled over twice in Indiana. Can you imagine what Bryan thought when he looked in his review mirror the first time and saw the police lights "This is it, they caught me…" and then he gets let go. And then it happens again…"This is really it now, they caught me…" and then he's let go again.
Crazy… I hope it scared the life out of him… TWICE and then the third time, when it was for real.
The opinions expressed by contributors and/or content partners are their own and do not necessarily reflect the views of WayneDupree.com
---
---
I'm glad you're here, WayneDupree.com comments! Please maintain polite and on-topic conversations. You could see comments from our Community Managers, who will be identified by a "WD Staff" or "Staff" label, in order to promote fruitful and civil discussions. We stop accepting comments on articles three days after they are posted in order to provide the optimal user experience. The conversations forums on WayneDupree.com welcome comments for an unlimited period of time. For further information, please refer to our community policies.
SIGN UP HERE and join us!
---
Follow Wayne on Rumble!