The lengths that people will go to in order to never admit being "wrong" about the vax are getting downright scary. As we all sit back in horror and watch healthy, young people "die suddenly" all around us, the folks who rabidly pushed the COVID vaccine, are either digging in their heels, and proclaiming all of this is just a "coincidence," or they're admitting defeat, yet, proclaiming what they did was done out of "love" so it's okay, even if it kills them.
HUH?
What the hell?
I know that sounds nuts, but this is what one self-proclaimed "doctor" is claiming on Twitter. And I seriously hope this woman isn't a real doctor, because if she is, her patients are probably in big trouble.
She goes by "Dr. Natalia" and she's another one of those big-pharma radical vax shills. But she now appears to be back peddling. Her recent tweet has gone viral for all the wrong reasons. She's now claiming that she will never regret getting the COVID vaccine, even if it turns out to be "actual poison," because she got the vaccine out of "love." And of course, she adds in how people who aren't vaccinated are "evil," bla bla bla…
After her absurd tweet, she locked down her account.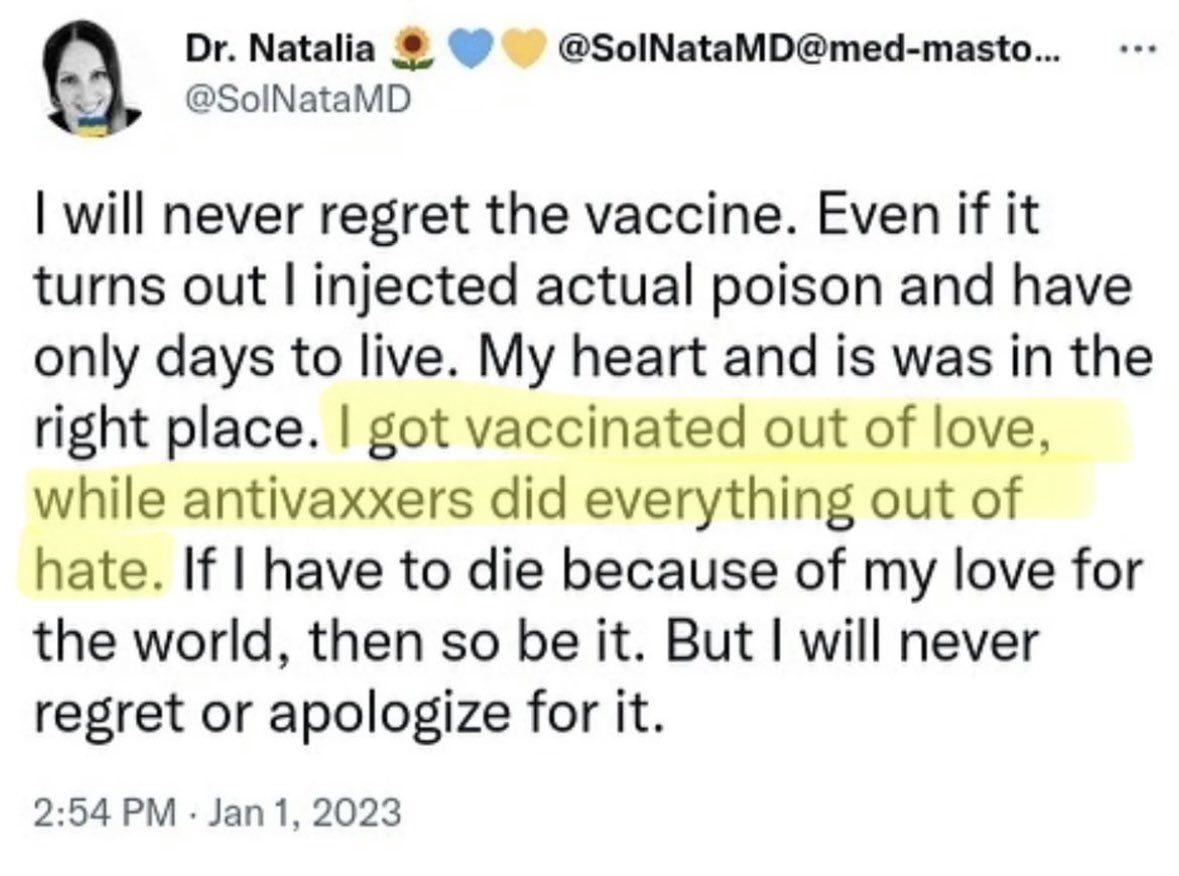 So, I went on the liberal "Mastodon" platform and found her there. Her account is also locked on that platform as well, and it seems that she's getting pushback even from the communists. But this is what her bio looks like. She appears, to be involved or a big fan of the medical community.
Needless to say, people had a lot of comments on this post:
"The science of the 2020s is strangely like Catholicism of the 15th century."
"So they are realizing that they f**ked up?"
"Sure as hell wouldnt want her as my dr."
"I see the cope is on overdrive about now."
"I like the sound of love- based medicine but I don't think this is an example of it."
"Imagine being her patient"
"So much love that she'll never regret nor apologize for it LOL" 
"Virtue signaling at its finest"
"Doctors like her make me not trust the medical establishment at all."
"What a profound statement of error!"
"Believe in Science, our God."
"Black is white, up is down. Good grief."
"This is a sick cult. Send help" 
"Everything I do is for "good reason" Everything people I hate do is for "bad reason" What I did is bad, but I am still a good and virtuous person while those I hate are bad, even though what they did was good. What a clown." 
The left has always been crazy, but now, they're literally stark-raving mad.
The opinions expressed by contributors and/or content partners are their own and do not necessarily reflect the views of WayneDupree.com
---
---
I'm glad you're here, WayneDupree.com comments! Please maintain polite and on-topic conversations. You could see comments from our Community Managers, who will be identified by a "WD Staff" or "Staff" label, in order to promote fruitful and civil discussions. We stop accepting comments on articles three days after they are posted in order to provide the optimal user experience. The conversations forums on WayneDupree.com welcome comments for an unlimited period of time. For further information, please refer to our community policies.
SIGN UP HERE and join us!
---
Follow Wayne on Rumble!