I am a pr0-life conservative. I believe that there are so many low-cost (sometimes) free birth control options out there, that almost every single responsible person should be able to avoid getting pregnant. It's not that difficult, and there should not be the need for as many abortions that are happening. With all that said, I believe that many red states went too far. It's absurd to not allow "exceptions" in cases of rape, incest, or if the mother's life is in danger. When I heard those strict rules, I knew there would b a problem. Because if that bothered me, and I am a pretty staunch pro-lifer, just imagine how that would impact more moderates and even independents. It just went too far in my opinion.
And President Trump feels the same way, and I think he's right.
Here's what he said on Truth Social: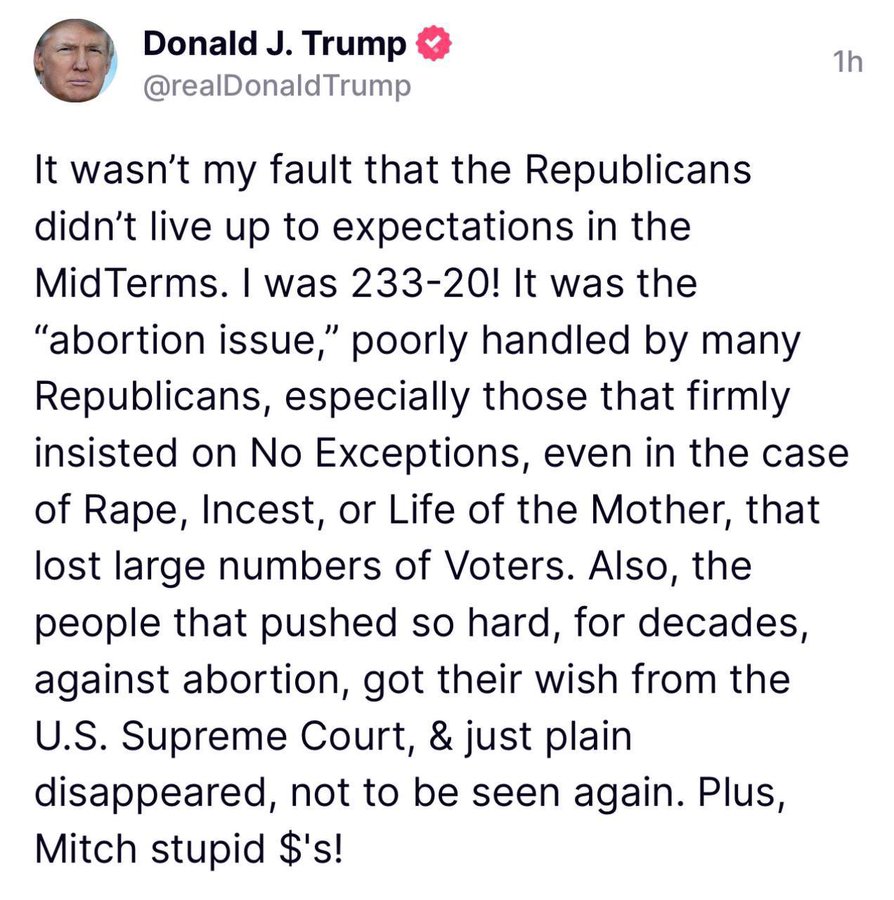 Take into consideration that Gallup polled this issue recently, and what they found, plays right into what President Trump ha said in this Truth Social post.
 Americans' satisfaction with the nation's abortion laws is at a two-decade low of 24%. At the same time, the percentage saying they are dissatisfied because they think the laws should be less strict — broadly speaking, a "pro-choice" position on abortion — is at a new high of 30%. A smaller share of the population, 22%, is dissatisfied because they believe the laws should be stricter.

The latest findings, from a Jan. 3-16 Gallup poll, represent a change from the prior two decades, when more Americans were dissatisfied with abortion laws because they believed they were not strict enough rather than too strict, or the two positions were tied.

Overall, 24% of Americans are satisfied with U.S. abortion policies, 66% are dissatisfied and 9% have no opinion. The dissatisfied group includes 14% who initially say they are dissatisfied but, when probed, say the laws should remain as they are. This is in addition to the 22% dissatisfied who want stricter laws and the 30% dissatisfied who want less-strict laws.
If we want to win more people over to our side, we need to listen to stuff like this. If a woman is brutally raped and becomes pregnant, she should have the choice if she wants to carry that baby to term in all 50 states, in my humble opinion.
I believe that President Trump nailed it. And while I believe there were a lot of other factors that came into play, I think this issue was definitely on the list.
The opinions expressed by contributors and/or content partners are their own and do not necessarily reflect the views of WayneDupree.com
---
---
I'm glad you're here, WayneDupree.com comments! Please maintain polite and on-topic conversations. You could see comments from our Community Managers, who will be identified by a "WD Staff" or "Staff" label, in order to promote fruitful and civil discussions. We stop accepting comments on articles three days after they are posted in order to provide the optimal user experience. The conversations forums on WayneDupree.com welcome comments for an unlimited period of time. For further information, please refer to our community policies.
SIGN UP HERE and join us!
---
Follow Wayne on Rumble!