There has been a mountain of "war propaganda" coming out of Ukraine. So much so, that you can't even keep up with what's real and what's not.
I am sure Russia also has a great deal of propaganda, but we really wouldn't know, since all the world's "mainstream media" sources and social media are only reporting and publishing the Ukraine propaganda. It's very one-sided and easy to see what the establishment is pushing on everyone.
For me, I don't have a dog in the fight. I believe what's happening in Europe is a regional conflict that was purposely fueled by America, and could have been easily avoided. What's going on is none of my concern, especially when my country is literally falling apart at the seams.
MORE NEWS: Ted Cruz Calls Out Biden's "Cognitive Decline" in One Savage Easter Egg Joke
I will not get passionate about anyone else borders when my borders are wide open and being flooded by criminals, sex traffickers, and drug dealers that are destroying cities and towns and American lives.
Now, I am not inhumane; I know war is ugly, and my heart goes out to the people who are suffering. But there are women and children living in liberal hellhole cities that are in more danger right now. There are American kids in Chicago, Detroit, Pittsburgh, and beyond, who have little to no chance of escaping the battlefield they were born on. I believe we need to help them first and let Europe take care of their own.
But, the globalist media and the establishment politicians want me and you to care about this "war" more than we care about our own country, so they're going all out to tug at our heartstrings and create a very "good vs evil" narrative.
In truth, both Ukraine and Russia are corrupt, but that truth doesn't sell "war."
The globalists need a good guy and a bad guy, not two bad guys.
So, Zelensky is the hero, and Putin is the villain. That's the story, and if you ask any questions at all, you'll be labeled a "Putin-Loving communist."
Got it??
And that's where these new photos come into play.
Apparently, Zelensky is now doing "war photoshoots," and we got a glimpse at what happens behind the scenes, and I have to say, many people are very disturbed by the "production value" of all of it.
Here's what conservative comedian Tim Young said: "Call me a "Putin puppet" all you'd like… it doesn't change the fact that elaborate, staged photoshoots in the middle of a war zone seem incredibly odd to me."
Call me a "Putin puppet" all you'd like… it doesn't change the fact that elaborate, staged photoshoots in the middle of a war zone seem incredibly odd to me. pic.twitter.com/erjy0EV1S1

— Tim Young (@TimRunsHisMouth) April 11, 2022
Here's a closeup of the photos: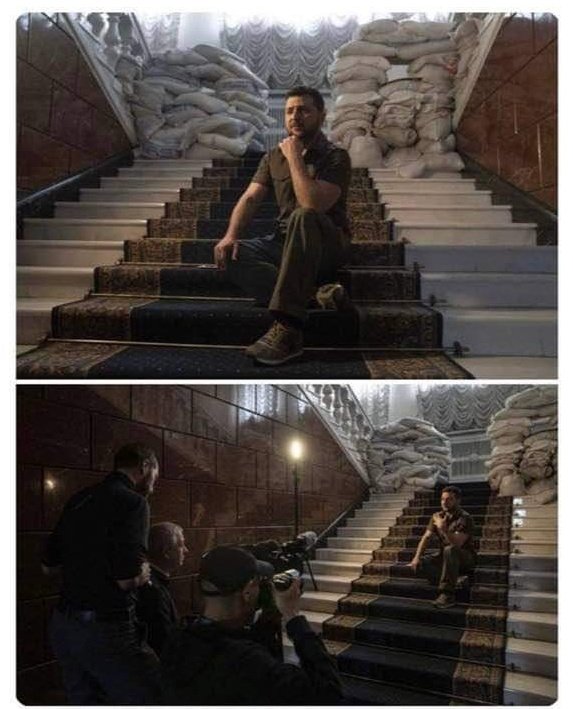 It's like a Hollywood movie.
Here's what people online are saying about the photoshoot:
"This guy is a fraud. A puppet and that means someone else has their hand up his Ass telling him what to do."
"Yes, this is weird. I get that war leaders have photos taken, but isn't that after the war is over and they've won?"
"Perhaps same set designer for the faux WH setting for the Brandon Administration?"
"Maybe this always happens and we're just seeing the propaganda for what it really is for the first time?"
"I am bothered by this, it just feels so staged." 
"Zelensky was a standup comedian and actor before winning the election and he's amassed $1 Billion dollar++ wealth… Zelensky and Putin are opposite sides of the same coin"
"Also, he was on the Grammys, 60 minutes, while a war is raging? Weird. Just weird and feels phony and staged" 
"Just another actor in one of many movies playing out…"
Others who saw the Zelensky images feel this is perfectly normal, and nothing to be "disturbed" by. They say this always happens in "war," and maybe they're right.
Maybe all wars we've been involved in are staged or propaganda tools for one reason or another.
I don't think that should make anyone feel better, though.

Article Source : WayneDupree.com
OPINION: This article contains commentary which reflects the author's opinion
Reminder : The purpose of the articles that you will find on this website is to EDUCATE our opinions and not to disinform or grow hate and anger!