I dunno… I was convinced the "Oscar slap" was real, only because it just felt so awkward and weird, and uncomfortable.
But now, the more time I spend online, the more I am questioning it, maybe it was fake? After all, these are all actors, so I guess it could be.
I am open to the possibility.
I know this isn't the most pertinent issue happening right now, but sometimes it's okay to take your mind off Bumbling Biden politics and his destruction of the world as we know it for 5 minutes.
We all need a break from time to time. 
Anyway, like I said, I've been running across some stuff online that's got me now thinking it could be fake.
I just did a piece on a mega-viral photo of the supposed "Oscar audience" looking on in shock as the slap happened – but I did discover that was fake. It's actually an Oscar audience form 2017 and their shocked reaction when the wrong "Best Picture" was announced.
Anytime I see "propaganda" like that, it makes me question things… I do the same thing with Ukraine war propaganda.
RELATED: Warning: Mega Viral Photo of Hollywood Actors Watching in "Horror" As Will Smith Slaps Chris Rock is Fake
So, I decided to go searching and see what else I could find about the moment being staged and here's what I came up with:
This is a slow-mo version of the slap, and here's what the Tweet author says: "Chris Rock grimacing for what he knows is coming. His hand barely grazed him. Actors, especially action actors like Will Smith, know how to pull a punch (or slap) This was staged."
Watch:
Chris Rock grimacing for what he knows is coming.

His hand barely grazed him. Actors, especially action actors like Will Smith, know how to pull a punch (or slap) This was staged. pic.twitter.com/rLP0TucxHU

— ᴍᴇᴍᴇᴍᴀʀ 🎨 (@ProjectMememar) March 28, 2022
Now, in keeping with that same vein, conservative meme artist Grand Old Memes put this image together: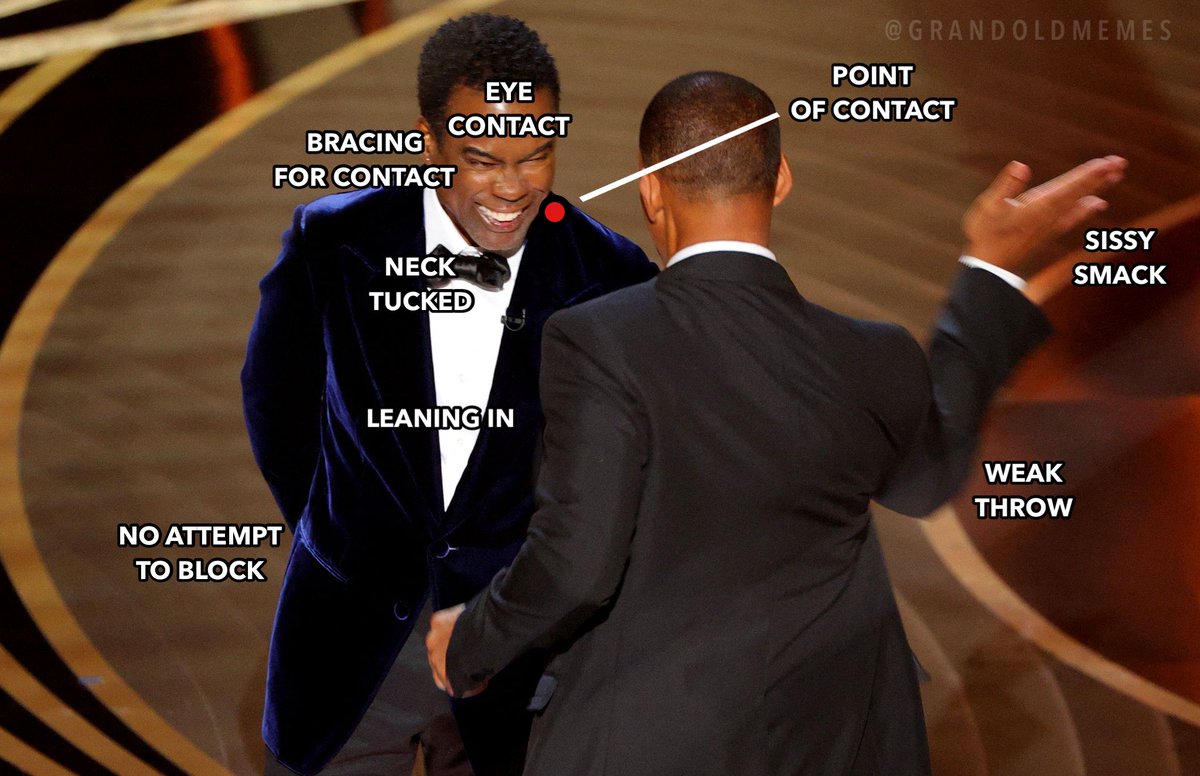 And someone else posted this picture and said that the two men both smiling makes him believe that the moment was staged: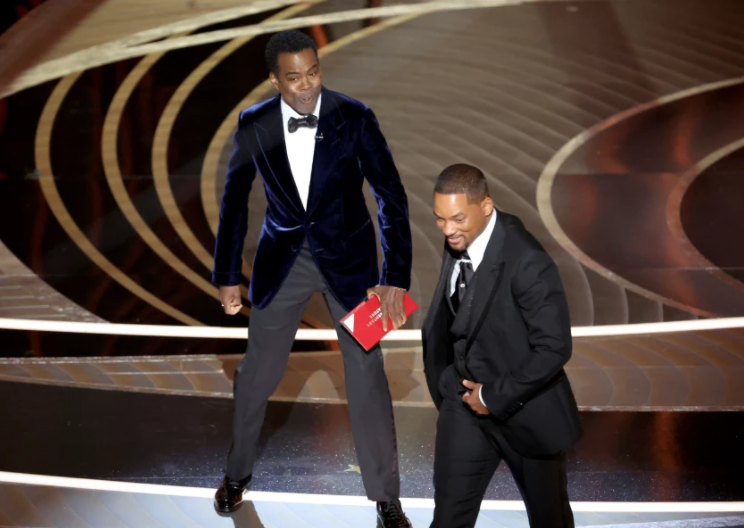 And this could be why the whole thing was staged… Look at that numbers dip from 2020 to 2021.
The Oscars needed something to put them back on the map, right?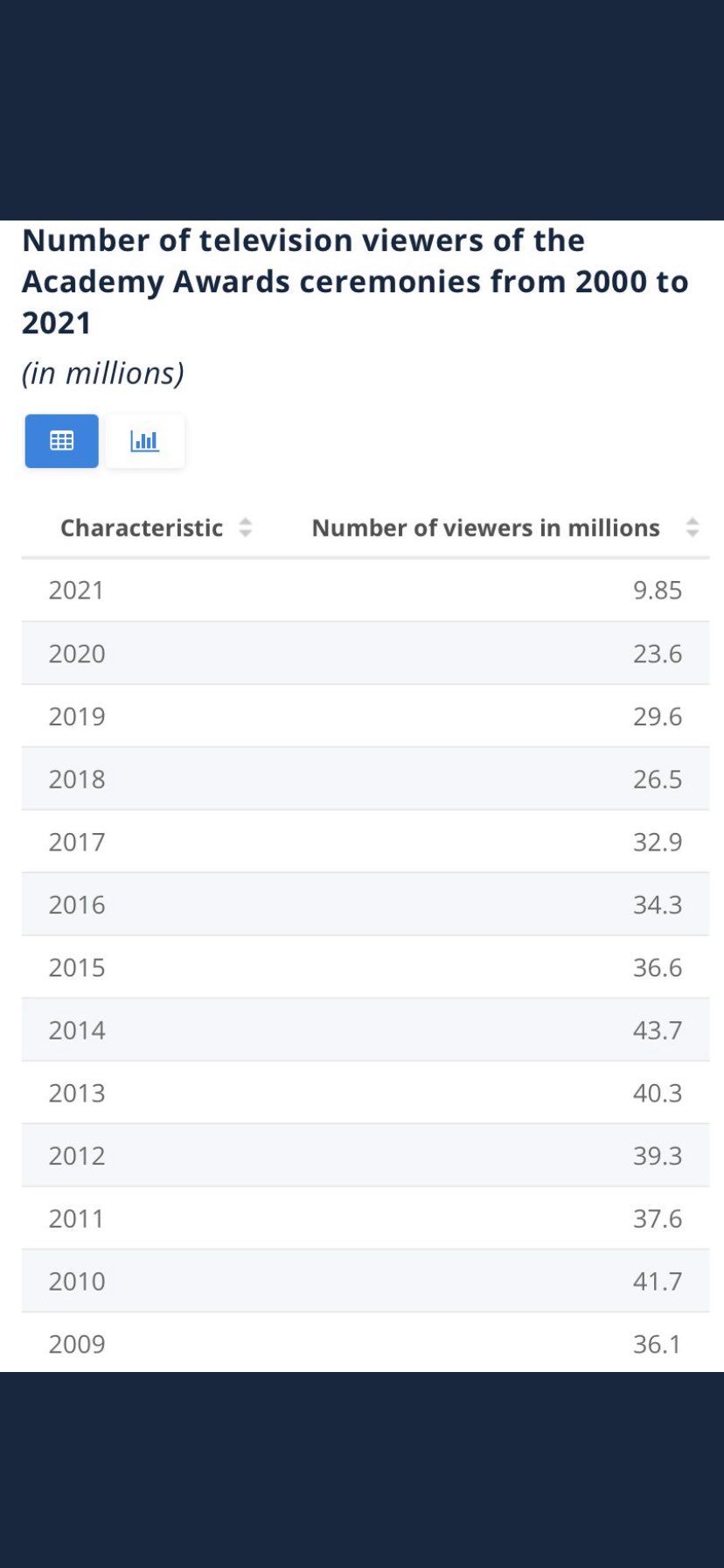 I mean, would anybody be talking about the Oscars today if that "slap" didn't occur?
The reviews are mixed, some say that the reason Chris didn't seem "defensive" or protect himself is because he and Will Smith are "friends" and he didn't expect to be slapped by him.
The two have been friends since 1995.
But, if you ask me, that lifelong friendship actually makes this whole thing seem even more fake.
I saw this meme online, and it made me chuckle.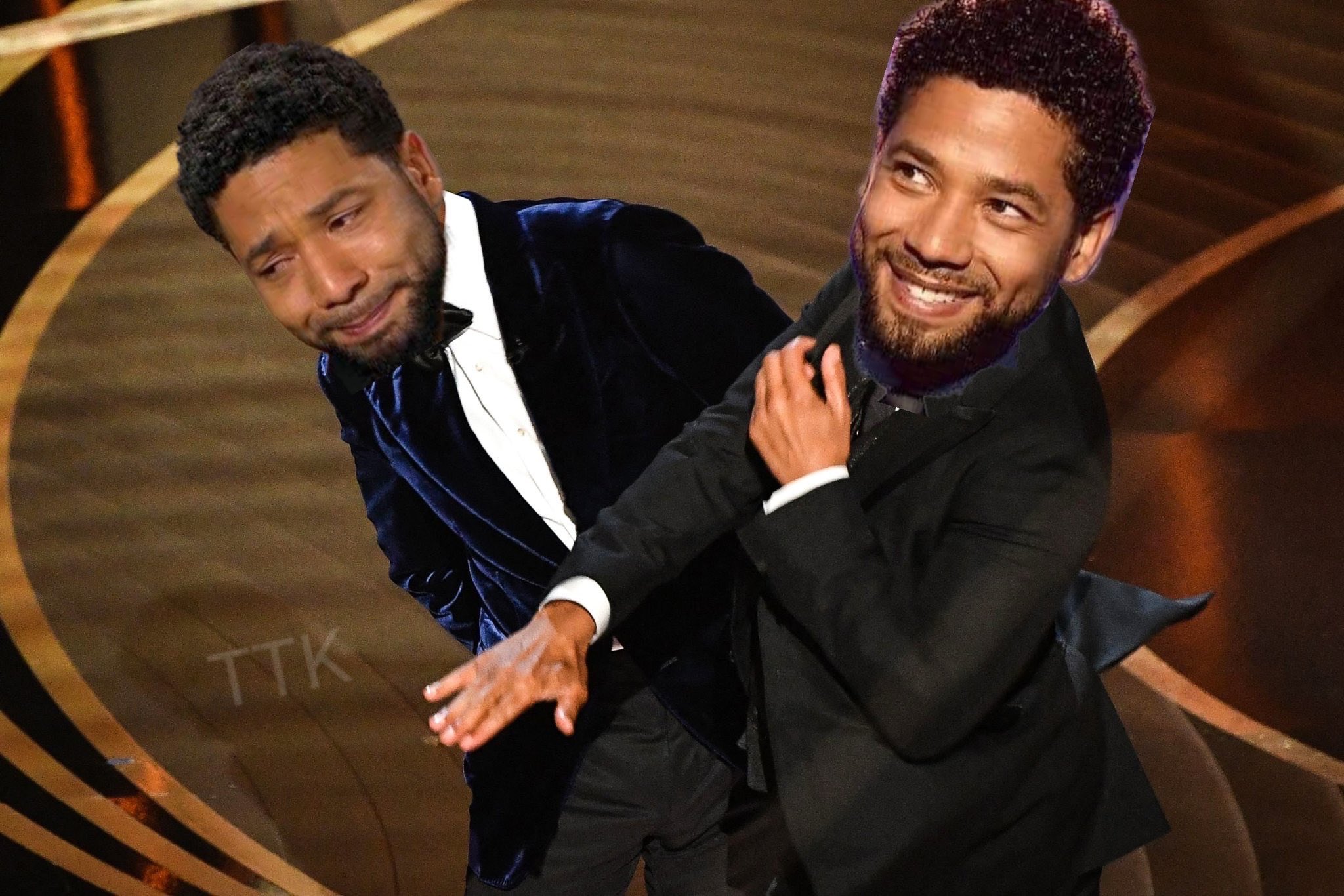 But a body language expert whose nickname is "Human Lie Detector" says it was real. Darren Stanton is sure that Smith simply could not have faked 'that level of emotion'.
Speaking on behalf of Slingo, Stanton said: "Once Chris Rock made the joke about Will Smith's wife Jada Pinkett Smith, you could see a visible emotional shift within the couple.
"The joke targeting Jada's shaved head following her battle with alopecia, clearly made her uncomfortable and she showed signs in her face of awkwardness and disdain after being embarrassed in front of her peers and the world.
"Will, on the other hand, made a slightly loose laugh and leant back in his chair, which is a sign of tension or uneasiness."
Stanton said Rock's stance showed he clearly 'wasn't expecting what was about to happen' as Smith got up on stage, and that there were signs he may have thought the confrontation was a 'prank'.
He explained: "With his hands behind his back, he displayed a position of authority, like many police officers, politicians and other empowered people stand in certain situations.
"He was also exposing most of his body and vital organs, a sign that there didn't seem to be any imminent danger so he must have thought it was going to be a prank.
Here's what people online are saying:
"The Oscar slap was obviously staged to recover ratings and y'all are so incredibly gullible. Now I understand why every psyop works and why we can't have nice things."
"This was not staged, it was real, and Hollywood just proved what violent degenerates they are"
"Do people actually believe that the "slap" by Will Smith was not staged? Maybe people watching the Oscars really are that naive. My god we are so screwed."
But I will say this much — if it was fake, Chris Rock deserves Will Smith's Oscar for "Best Actor," because he really did seem awkwardly confused and shook after that moment.
I guess in the end it really doesn't matter if it was real or fake, the Oscars still suck, and we've got bigger fish to fry.
But hey, the little distraction was fun while it lasted.

Article Source : WayneDupree.com
OPINION: This article contains commentary which reflects the author's opinion
Reminder : The purpose of the articles that you will find on this website is to EDUCATE our opinions and not to disinform or grow hate and anger!