Joe Biden is flubbing his way throughout Europe.
His disastrous trip started in Brussels, where his Handlers shielded him from the press as much as humanly possible.
But, things took a bad turn the moment Biden got to Poland.
While there, he started an international incident, when he "accidentally" old the 82nd Airborne that they'd be going into Ukraine.
The White House had to come out yet again, and "mop" things up for the senile old buzzard.
It's still unclear to most Americans if that was a slip and Biden spilled the beans, or if he was just in another dementia fog.
Nobody trusts this guy, for obvious reasons.
Biden also ate pizza with the troops, and some awkward photos emerged from that as well.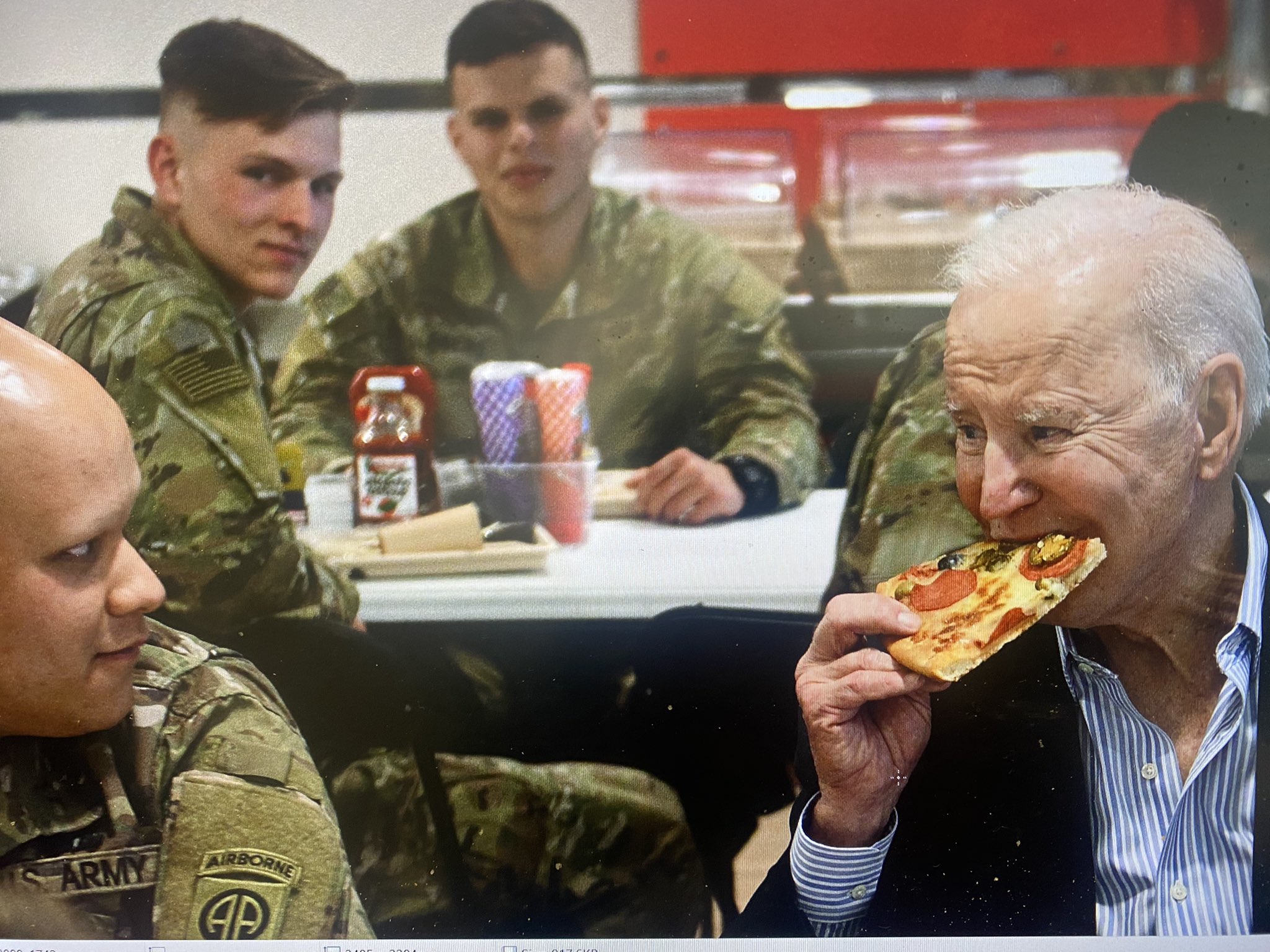 And a "Biden trip" wouldn't be complete without Joe calling someone by the wrong name or title, right?
Well, that's exactly what happened, when Biden and Polish President Duda were seated next to one another during a presser.
Biden referred to the President of Poland as, "Mr. Ambassador."
Whoops.
I will give Joe some credit, he caught his mistake pretty quick and corrected it…
But it was too late, the damage was already done.
You can watch the video below:
Here's what people online are saying:
"This is the man representing us to world, ladies and gentlemen smh" 
"He reminds me of a Chevy Chase impression of Gerald Ford."
"Every day is a bad SNL skit with this clown" 
"Where did all the concerned "invoke the 25th" citizens go??"
"What the heck? Why can't we go one day without Joe screwing sh*t up?"
"Unfortunately the American people and world know more of this comes daily, because @JoeBiden becoming more frail each day! Just like the comment to the 82nd Airborne Division, this was no mistake and something was supposed to be hidden!"
"His "gaffs" are just normal now. They've normalized dementia" 
"So EMBARRASSING……YOUR TOO OLD BIDEN.YOUR TOO DISGUSTING AND SO SO SO EMBARRASSING GOD HELP US ALL"
"This man's literally going to get us all killed. Talking to troops as if they're going to or already in Ukraine earlier today and then this. 25th amendment today!!"
"I usually feel bad for people suffering dementia and senility… I do feel bad for Biden… The people doing this to him are MONSTERS!"
"He called Kamala Harris President before. This administration is completely a laughingstock to the World."
"How much more is it going to take take before they 25th his ass. This is a total disgrace that he was even able to run for that position. Now we the people are stuck with dumb and dumber."
The media and Dems used to cry out for the 25th Amendment when President Trump had a typo in a tweet.
Now, we've hot an Alzheimer's patient who hardly knows he's alive, and suddenly, all these "concerned" people are quiet as church mice.
More proof that our media is fake news and nothing more than a left-wing propaganda machine.
Article Source : WayneDupree.com
OPINION: This article contains commentary which reflects the author's opinion
Reminder : The purpose of the articles that you will find on this website is to EDUCATE our opinions and not to disinform or grow hate and anger!